Serenade of the Sirens
Comments
Log in with itch.io to leave a comment.
The game is so cute! I made some fanart.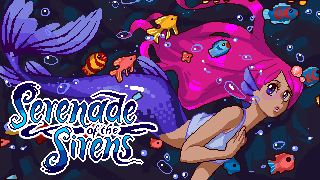 I hope you finish it, look forward to playing more.

Wow this is really amazing, thanks for the awesome artwork! This really made my day! Reach out to me at chukobyte@gmail.com for a free key.
Serenade of the Sirens was added to a gamejolt compilation!
Cool game but I have a AZERTY keyboard so the WASD control for moving it's a bit difficult.
Could you please add a option to change the WASD control to ZQSD.
It would be simpler, thank you.
Hi rayjo, thanks for playing and for the feedback! Sorry that it's difficult to play on your AZERTY keyboard. In future builds I'll implement a feature to allow you to map the keys to the controls. Also this game is better played with a controller (if you have one).
Thanks ! (I don't have a controller)
Just so you know, I'm giving you credit in my new devlog 0.3.2. I'm including custom key mappings on my tracker for future builds.
I implemented custom mappings in build 0.4.6. You should be able to configure the controls to how you see fit.
hey chukobyte i love your page design very much and a great work on this game but could I ask what are all those devlogs I see you use them to much could you tell me what is it for and thank you.
Hey M,Sarhan, thanks for checking out my game! Devlogs are basically blog posts that record the progress on your project. I have two development logs that I keep track of, one for internal use (only me) and the other is public facing such as what you see on itch.io. Currently each devlog I post is tied to a particular build, but that will probably change in the near future once this project becomes closer to completion.
Playthrough of Build 0.2.13 By Tom Cheshire

This game i feel like is a hidden gem, i feel like i didnt do this game to much justice since i didnt finish. i like the 2D platform feel. I had i a really hard time finding health though to make it to the end. Was a fun game though. Good Job
Thanks for playing, I've learned a lot from your feedback! I just updated the game, hopefully a minimap will help players not get lost!
Does the game work with Dualshock 4, Dualshock 3, or both? (Dualshock are the PS controllers, 3 is PS3, 4 is PS4)
Thanks for asking this question! I believe it works for both, but unfortunately I don't have the Dualshock 3 or 4 controllers. If you have them, could you please test them out for me if you can? I've been solely testing on XBox controllers, but I'll make sure to grab ps and nintendo switch controllers in the future for testing.
Cool thanks, I would really appreciate it!
I did not test but it probably will not work properly because Dualshock have weird drivers. Instead of the normal 0 and +1 it does -1 and +1
If you get a chance to test let me know. From the documentation and threads I've read on Godot's gamepad support, it should support ps controllers.
I also believe the PS4 might be allocated to a different port when coding it. But I might be wrong.
Thanks for the info. I'll definitely look into it and update my instructions accordingly.
Can't wait for you to release more games! All of your games right now are pretty good.
This game looks gorgeous!

Simple but new concept, smooth controls, nice music. Not so hard, not so easy. 10/10